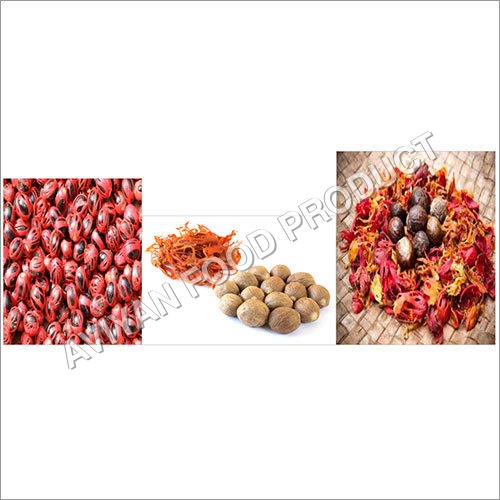 Nutmeg & Mace ( Jai phal Jayitri)
Product Code : AFP-14
Product Description
Nutmeg & Mace ( Jai phal Jayitri)
A fruit of evergreen 9-12 mtr high tree produces two kinds of spice- one is Nutmeg and another is Mace. The dried seed kernel of fruit is nutmeg and dried covering of seed shell is mace. This tree can bear either female flowers or male flowers. The difference one can identify between the both is that the solitary flowers are the female flowers and flowers in clusters are male flowers. The pale yellow and spherical shape fruit has a longitudinal groove in the centre. When this fruit matures, it bursts open. It contains the bright attractive mace which covers the nutmeg which is a hard black, shiny shell of the seed.
ORIGIN AND DISTRIBUTION
Nutmeg tree is a native of Moluccas. Indonesia and Granada are the areas where nutmeg is majorly grown. In smaller scale, this spice is grown in China, India, Mauritius, Malaysia, Sri Lanka, Zanzibar and Solomon Island. It requires warm humid climate for growth in areas up to 600 mtrs MSL. The kinds of soil on which it can be easily grown are sandy, clayey loams and red laterite soils with good drainage. This crop requires a well-distributed annual rainfall of 250 cm.
USES
Both the spices are used as condiment especially in sweet eatable items. Food processing industry make use of this spice in ground form. It uses this powder as a standard seasoning in Dutch dishes. Nutmeg oleoresin finds usage in preparing confectioneries, baked foods, soups, meat products, sauces, meat & vegetable seasoning. The fruit's outer cover with adequate amount of flesh can be pickled or crystallized, or can be made into jellies. Mace is generally used in savory dishes. Eastern countries use it as a drug, attributable to its astringent, aphrodisiac, carminative and stimulant properties. If taken in excessive amount, it can have a narcotic effect. Nutmeg oil is used for making cosmetics and toiletries.
INDIAN NAME OF SPICES
Hindi : Jaiphal
Telugu : Jajikai
Urdu : Jaiphal
Kannada : Jayikai
Bengali : Jaiphal
Gujarati : Jaiphal
Kashmiri : Zaaphal
Malayalam : Jathikka
Punjabi : Jaiphal
Marathi : Jaiphal
Oriya : Jaiphala
Sanskrit : Jatiphala
Tamil : Jathikai
FOREIGN NAME OF SPICES
Arabic : Jouza at-Teeb
French : Muscade
Chinese : Dou kou shu
Dutch : Nootmuskaat
German : Muskatnu
Italian : Noce moscata
Spanish : Moscada
Greek : Moschokarido
Indonesia : Pala
Contact Us
Room no-50/442, 2nd Floor, Palathinkal Building, Petta Junction, PO- Poonithura, Ernakulam, Kerala, 682038, India
Phone :+917259517636