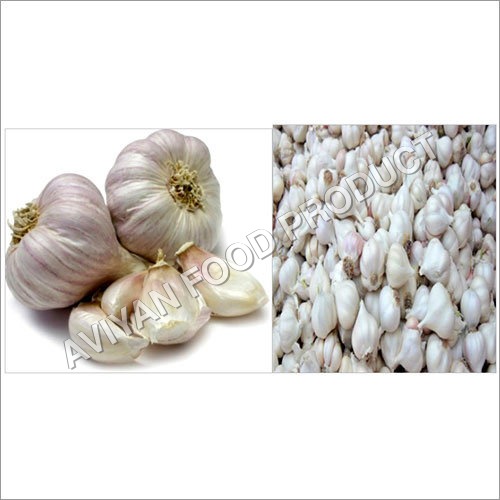 Garlic (Lahsun)
Product Code : AFP-13
Product Description
Garlic (Lahsun)
Garlic, scientifically called Allium sativum, is a plant of onion genus species. This plant is hard, bulbous, rooted and perennial, having narrow flat leaves. This plant bears small white flowers and bulbils. A compound bulb comprises around six to thirty four bulb lets, which is called cloves. These are covered by a thin, white or pinkish papery sheet.
ORIGIN AND DISTRIBUTION
Garlic having strong flavor and taste is a native of West Asia and Mediterranean area. The countries where garlic is majorly grown are Argentina, China, Egypt, India, Korea, Spain and USA. A cool weather is needed for growing garlic. It grows in a moderately well-drained clay loam at higher elevation. The altitude needed for its growth is between 900 to 1200 mtrs.
USES
Garlic is worldwide used to add flavor in dishes. People in USA use dehydrated garlic in salad dressings, meat preparations and mayonnaise products. Spice producers make use of raw garlic in making garlic powder and garlic salt. Many other variations of garlic can be prepared from raw garlic, like potato chips, bacon, bread, vinegar and cheese croutins. The use of nutrition rich garlic does not stops here. It is also made from producing liquid garlic preparations and spray dried garlic products. In India and other Asian and Middle East Countries, garlic pickles are made. It also form an essential ingredient in curry powders and curried vegetables. The garlic oil is used in sauces, soups and canned foods to add garlic flavor. In medicine also, this finds its use. With anti-bacterial and fungicidal properties, it is used for various ailments of stomach and skin diseases. It can also be found in indigenous medicines.
INDIAN NAME OF SPICES
Punjabi : Lassan, Lasun
Hindi : Lasun, Lessan, Lahsun
Assamese : Naharu
Marathi : Lusson
Gujarati : Lasan
Bengali : Rashun
Kannada : Bellulli
Malayalam : Vellulli
Kashmiri : Ruhan
Oriya : Rasuna
Sanskrit : Lashuna
Tamil : Ullipundu, Vellaippundu
Urdu : Lassun, Leshun
Telugu : Velluri
FOREIGN NAME OF SPICES
Spanish : Ajo
Swedish : Vitlok
Arabic : Thum
French : Ail
German : Knoblanch
Dutch : Knoflook
Italian : Agilio
Japanese : Ninniku
Chinese : Suan
Portuguese : Alho
Russian : Chesnok
Contact Us
Room no-50/442, 2nd Floor, Palathinkal Building, Petta Junction, PO- Poonithura, Ernakulam, Kerala, 682038, India
Phone :+917259517636